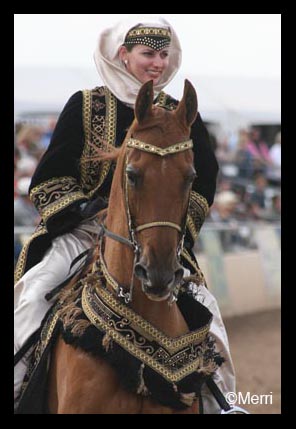 Friday February 25 2011

The pace is picking up for the final weekend of the Scottsdale Arabian Show.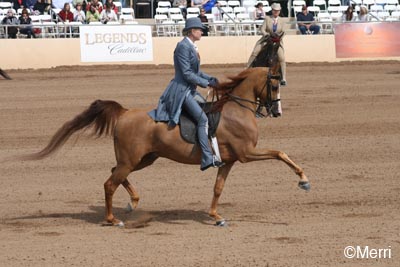 Today included championships in three different arenas in (among others) hunter pleasure and english and western pleasure, western side-saddle, older stallions and mares halter horses, show hack, and reining. Many classes have both Arabian, and half-Arabian/Anglo-Arabian divisions; most have amateur and pro divisions; some also have age divisions.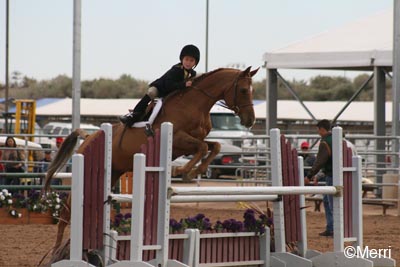 The hunting over fences continued all day in another arena (some girls so small they could practically walk under the horses on which they fearlessly flew over fences with);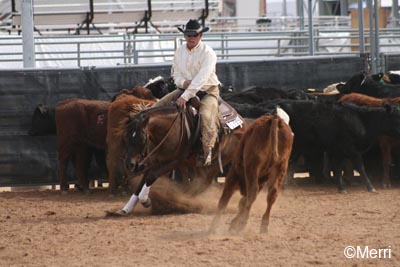 the cutting horses started their classes today in still another arena.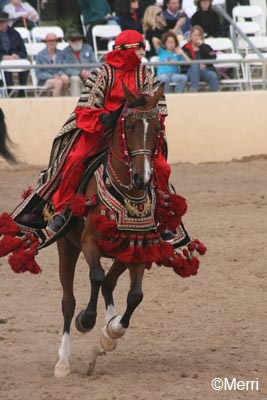 Today's highlight was the half-Arabian/anglo-Arabian mounted native costume class with a dozen entries. Finally, this class took place in the main outdoor arena! The sun was hiding behind clouds, so the costumes didn't sparkle, but they were still dazzling! Green, red, royal blue, gold and silver, the high stepping horses sashayed around the arena to the Lawrence of Arabia music. I'm glad I wasn't a judge because I couldn't have picked my favorite.

Occasionally an organization or barn will throw a party for everybody. Yesterday the Modern Arabian Horse magazine threw a party because they received the 2010 Pegasus Media Award from the United States Equestrian Federation in the Association Publication category.

Today Royal Arabians, of Mesa, Arizona, served catered food and had an open bar while they showed off some of their horses.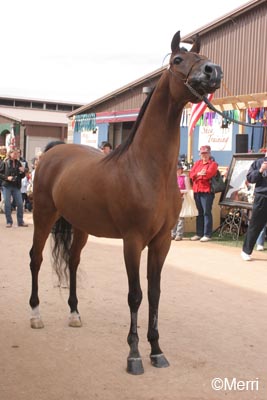 This happened during the Native Costume class... so many horses to see, so little time! I made it back to their barn after the costume class to see NW Siensational, a handsome bay who was the 2010 US National Champion Gelding in Hand.

Two more days of this year's show are left, and some of the championship riders and horses will have some of the Southwest's wild winter weather of 2011 to deal with. A 'cold and wet winter storm and associated cold front' is moving in tomorrow afternoon, with a 100% chance of rain Saturday night. They're usually right about rain around here when it's predicted, so when the outdoor arenas turn to slush, it will be interesting to see how and where all the championship classes will be squeezed into, with the crowds who would normally be sitting outside watching them.

Included in Sunday afternoon's festivities is the Parade of Champions, in which two local endurance riders are schedule to ride: Clydea Hastie, and Rusty Toth on Redford!

Slide show here:


Many more photos (including lots of the gorgeous Native Costumes) here:
http://www.endurance.net/international/USA/2011SAS/