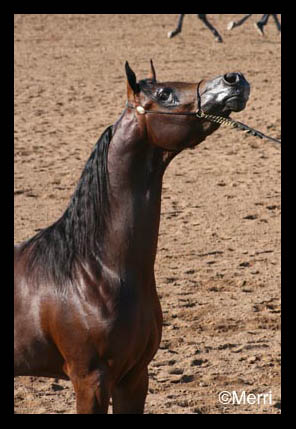 Thursday February 24 2011

At the Scottsdale Arabian Show, you have your Working Horses and your Pretty Horses.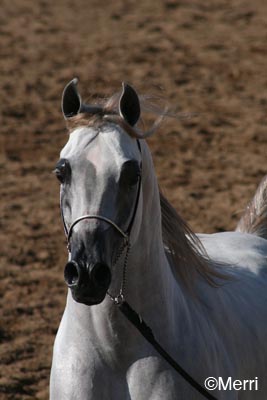 Many halter classes for the Pretty Horses today - 3 and 4 and 5-year-old mares and stallions in the morning, and yearling colts and fillies in the afternoon. I will forever think of them as the Woo Woo classes, because that's the cheer you hear going around the arena when a group's favorite horse comes in the gate and trots/props/leaps/bounces/floats around the arena. "WooWooWoo!" The background beat is the kicking of trash cans, the shaking of chairs, the banging on anything that makes noise. The showier and just-on-the-edge-of-control the horses act, (or not), the more it pleases the crowd.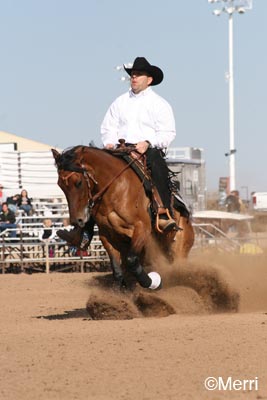 Meanwhile, reining continues all day on one end of the venue (I missed Fireman), while on the other end of the venue - the cowboy barn end - the calves have been trucked in for the Cutting and Working Cow Horse that will begin tomorrow and Saturday.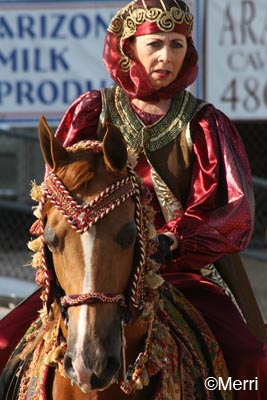 Hunters take up another outdoor arena, while in the covered Equidome, classes vary from Driving to English and Hunter and Western Pleasure to Sidesaddle, and the single Arabian Mounted Native Costume class of the day. Such fun, colorful, imaginative, elaborate outfits of the native Bedouin type can run you into the thousands of dollars - and well worth it for all the time that must be put in making them. Classes are judged on 75% performance and manners and 25% on "appointments" - whatever that is. The costumed horses and riders are very popular with the crowd, though the class itself is short - doesn't last more than 10 minutes, and there's not even one class a day at this year's Show (and Tuesday's class had only 4 riders in it).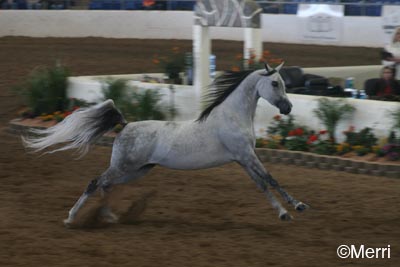 Then, finally, came the Wild and Pretty Horses - in the Arabian Liberty class. You bring your stallion into the arena, turn him loose and let him "perform" - i.e. run around and show off - for 2 minutes to some lively music. When the music stops, you have 2 minutes to catch him. Some of the horses show off mightily, which gets the crowd going, which gets the horse going more, which really gets the crowd cheering. One horse today did such a quick spin while showing off that he threw a shoe. One girl (and the man with her) could not get their horse's halter off because he seemed to not want his ears touched - but after his 'show', he walked right up to the girl to have his halter put back on. (There were only 4 in today's Liberty class.)

There's a final for this on Saturday where the winner gets $5000. All for looking pretty! Presumably that will buy him a good stash of carrots, in addition to gaining some fame and girls.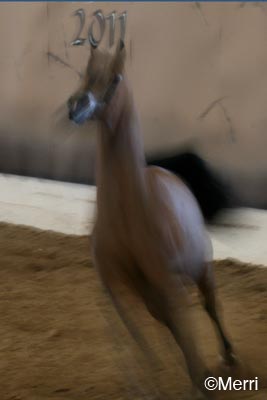 The Scottsdale Arabian Show is building toward its conclusion on Sunday and the Championship halter classes, Championships for reining and working cow horses, Championships for the different riding disciplines and driving. Which will all prove to be interesting, since another cold, wet, windy winter storm is coming through (sunny Arizona!) starting on Saturday.

Might be a lot of Wet Working and Pretty Horses at the end of the day.

Slide show here:


Many more photos here:
http://www.endurance.net/international/USA/2011SAS/