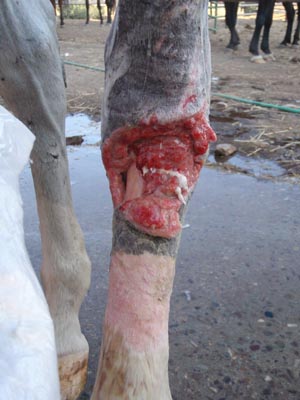 Wednesday July 27 2011

As I worked at cutting the layers of bandages to expose the wound, I kept thinking back to the movie Into the Wild, when Chris finally killed a moose in Alaska - he'd have food for months - and he was rushing to cut up the meat before the flies got onto it.

There were flies hovering around Sunny's leg even before I could get the bandage all the way off, and we desperately wanted no flies on that wound.

That wound. Holy Moly.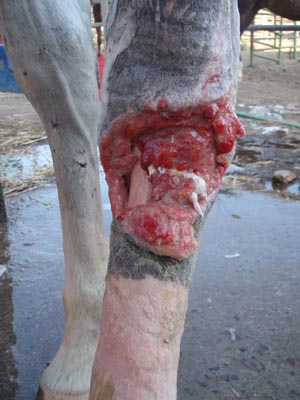 Today we changed the bandage on it for the first time since Sunny got back from the vet clinic. We're supposed to change the bandage every 4-5 days. This is day #9 since the barbed wire accident.

The hardest part for Sunny was my getting the bandage off. The more layers I got off, the closer I got to the wound, and the more it hurt. I had to peel and yank a bit.

The other hardest part for Sunny was hosing the wound. It hurt, hurt, hurt, boy did it hurt. And no wonder.

A gaping hole to the center of her hock. 4 inches of bone still exposed. I thought I'd be ill when I first saw it, but as I peeled most of the bandage away, I thought, wow, the vets did a great job cleaning it up. It's clean and healthy looking - if you can call that healthy.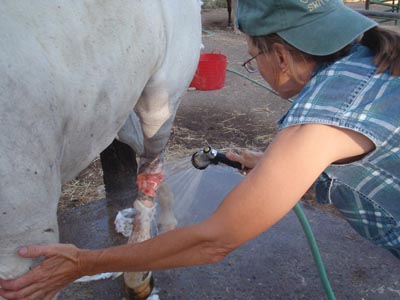 Sunny tried to be still - Steph held her head still and talked to her - but oh my, it hurt. She kept her leg up in the air and after a while was just shaking - but she stood bravely. I hosed it for 5 minutes, then reached for the bandages, while Steph guarded it from flies.

I referred to the handy sheet the vets sent Steph home with,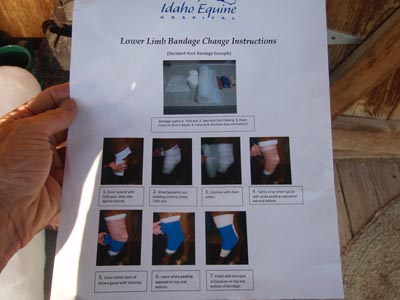 and had the bandages laid out just like in the picture,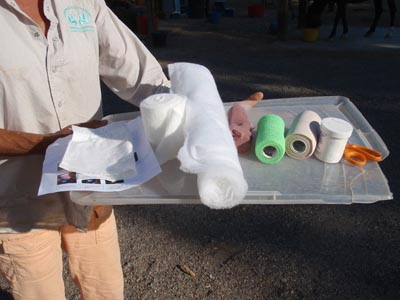 and got busy wrapping.

Once the water stopped touching the wound, it hurt much less and Sunny was able to put her leg down. And she never moved it again, not even when I put the telfa pad with the ointment directly onto the wound. Next was cotton cast padding, then a cotton sheet, then gauze, then vet wrap, then the Elasticon (as CG said - great stuff!). It sticks to the bandage and to Sunny's skin, at the top and bottom of the bandage, to help hold the whole shebang in place. Definitely don't want that slipping down.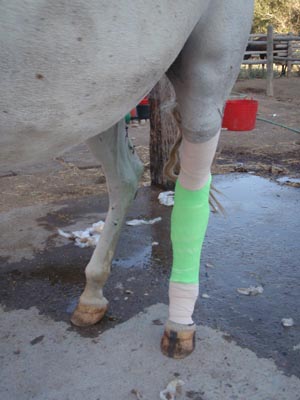 Once I finished and Sunny took a step forward - ouch - it hurt again. She held it up in the air and thought she only had 3 legs. Steph coaxed her forward and she limped big time until she realized that the leg was all bandaged up and it felt a whole lot better. She followed Steph back to her pen with hardly a bobble.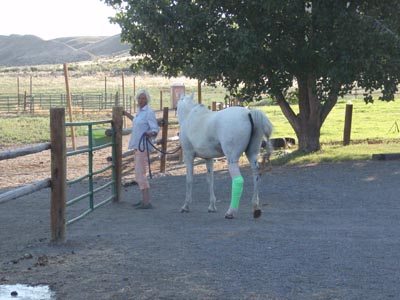 Nine days down... months to go...