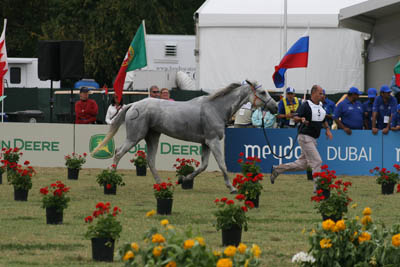 Saturday October 9 2010

Since there was a bit of controversy at (most recently) this year's World Endurance Championship about some of the trot outs, I thought it would be interesting to look at some different styles. (And I'm only using the WEC because I have these photos handy - you can see some of this at any ride.)

I've learned many different ways, from different people, to trot a horse out for the vets. Best is to have the horse trot freely beside you on a loose lead rope. But there can be many subtle (or not so subtle) techniques that are used.

One person taught me to do it slow so a lameness doesn't show up so well. One person taught me to do it fast so a lameness doesn't show up so well. One person taught me to make the horse take 4 walking steps before trotting off, to make sure the horse is lined up straight.

Some people never stop their horse at the end of the lane, just keep the horse trotting on the turn around and trot right back; and some say this is bad because it will show the horse's lameness off more if the horse takes any steps off a straight line. Some people will trot the horse to the end of the lane, stop the horse, turn him around in a clockwise circle (walking on the horse's outside, presumably so he can't swing his hindquarters out), straighten him out then trot back.

(You might be able to 'sneak' a horse through that's a bit off, but even if you manage to do that, you don't really want to continue on him, do you??)

What definitely looks best is when the horse trots freely beside the handler, no hazing, no dragging; though if the horse is tired during a ride he may not want to trot out so energetically.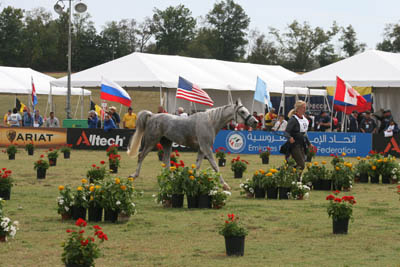 A bit (shown here) is usually not the best thing to trot a horse out in. (Halter and lead rope are usually better.)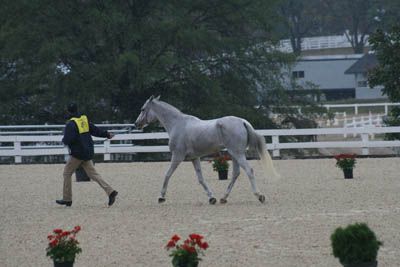 This horse is being dragged a bit.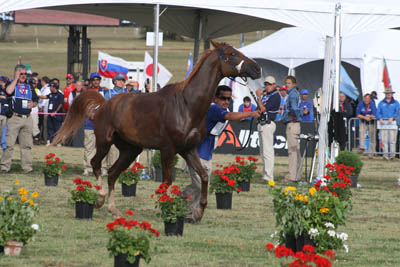 This horse appears to not have a rapport with his handler.



Here he's cantering.

It takes a lot of practice at home, and at rides, to have a horse that looks like this. (And the one up top.)