Saturday May 12 2007

Ralvon Arabian Stud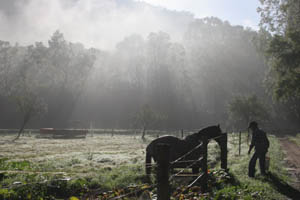 is one of the icons of the Arabian horse breeding industry in Australia over the past 50 years, and is likely well-known all over the world. They've been highly successful in the showring and endurance. Far above that acclaim, however, are the opinions of everyone I spoke to about Ron and Val Males, owners of the stud. "Wonderful people," "I have great respect for them," "Good, honest people," "We don't mind getting beaten by such upfront, honest competitors," etc, and the unanimous sentiment expressed about them was "respect."

Now located about an hour out of Sydney in New South Wales, Ralvon Stud started out quite modestly in 1953 when Ron and Val became engaged. Their first horses were two ¼-Arabian mares and an Arabian stallion. In 1962 they obtained Rickham, who was versatile and docile enough for Ron to ride bareback with no bridle working cattle, and who went on to sire the famous Ralvon Pilgrim in 1970. Of Rickham, Val has said, "he was a horseman's horse of substance, soundness, and nobility." Rickham had a favorite cat that he liked to carry around his paddock in his mouth. (The cat loved it.)

Before that, however, Ron and Val helped establish the first Tom Quilty ride in 1966, patterned after America's Tevis Cup, and the beginnings of Australian endurance riding. Ron rode in that first Quilty on another of their stallions, Shareym; (the winner, Shalawi, ridden BAREBACK by Gabriel Stecher, was a ¾ brother to Shareym), Shareym went on to complete 6 Quilties, still a record for a stallion, and Ron himself became a Quilty legend, earning 21 buckles over his endurance career, including 20 completions out of his first 20 starts, a record that will be hard to break. He rode Chip Chase Sadaqa (the stallion now owned by the Tofts) in 1987 to a second place finish. Val herself has 2 or 3 of her own Quilty buckles. "I loved the Quilty," she says.

In 1970, a star was born. A homebred by Rickham out of Trix Silver, when the foal's head was emerging from the mare in birth, Val said, "We're going to call this one Pilgrim, because he's going to go far." That really proved to be an understatement. They began showing him as a yearling, and 8 times in 8 weeks he was never beaten. They kept showing him through 5 years of age, and he was South Australian Supreme Champion, Victorian Supreme Champion, Brisbane Supreme Champion, New South Wales Supreme Champion. They finally retired him at 5, because he'd won everything and there was nothing else to win.

Then they heard of this World Championship in England at Ascot in 77; they and their horse were invited by Michael Pitt-Rivers of Tollard Stud to come stay with him and compete. "We couldn't believe it," says Val, "here we were, two country nobodies, wandering around England like Crocodile Dundee in civilization. (I think that's why they enjoy watching this movie again and again.) We'd never seen a butler before!" She laughs gaily when she recalls them sitting down to an elaborate served lunch at a fancy table. "I had a big spoon at my plate, and I thought, 'Oh dear, they are going to have me serve the soup,' until I saw everybody had a big spoon. Then, when we tried our soup…" (at this point, she's laughing so hard she can't get the story out), "Ron and I looked at each other (doubled over laughing) with great big eyes, thinking (gasping for air, laughing so hard), 'Oh dear, they forgot to heat the soup!' but it was supposed to be served cold." Great memories!

To the Males it was mind-boggling that they were even present at this world championship with a little homebred Australian horse of theirs, going up against horses from 14 other countries, and when Ralvon Pilgrim won Supreme Stallion, then went on to win Supreme International Champion, it was beyond a dream come true. Val's written account of it is riveting and moving - and completely humble.

Ralvon Pilgrim sired countless champions, passing on his greatness in the showring and endurance. Thirteen years after his death, he's still #3 on Australia's Leading Lifetime Sires of Pure Arabians List. His progeny excelled at everything. He stopped in New Zealand on his way back from England, and Trevor Copland's uncle Brian bred about 8 mares to him.

Milex was another great stallion they owned - picked out by Val, because she'd always wanted a son of Exelsjor. Milex was successful when they showed him lightly, but it was as a sire where he became a great legacy. When he died in 1996 at age 28, Milex had become Australia's leading endurance sire as well as a successful sire of numerous Champions in Hand and Under Saddle.

The Puritan was another successful stallion story, also chosen by Val as a foal in 1970. He was Champion Stallion several times and produced many successful showring and endurance horses.

Ron and Val were the first to sell a purebred Arabian to America - to Wayne Newton in 1969. And they were the first to sell Arabians to the Arabs in 1992, so you might say they had a hand in helping to get endurance going in the Middle East, also. In the first races held over there, the horses were racing against camels - and they did quite well, when someone didn't cut the course ropes and let a ringer camel run in front of the field near the finish.

The Males' success in the Arabian world isn't due to one specific type or bloodline of horse, or because of breeding just for show, or just for endurance - their breeding program has been a mixed lot of Crabbet, Egyptian, Polish blood: the main theme is all about being a good horse. As Ron put it, back in the old days, the Arabian horse in this part of the world was bred to be a work horse, not an ornament. In the 70's, the Australian Arabian breeders started following the American way of showing and breeding, and that's when some Australian breeders started getting away from the all-around accomplished Arabian horse. The Males always stuck to their beliefs: they always expected their horses to be good at everything - showing in hand, under saddle, in harness, and in endurance; and they have done just that.

Every single one of the pictures they showed me, I was looking at knock-out horses - horses with depth and substance, good strong bodies, not those pencil-thin necks and flat toplines. There wasn't a one that didn't look like it could carry a heavyweight rider 100 miles, but that was still so strong and beautiful enough for a showring.

At one time they had 300 horses on their place and 4 full-time employees; now they've cut back drastically in semi-retirement; they have about 12 horses, none really going in endurance, and they're selling the last of their broodmares. They still have, and will keep the two stallions, Orlando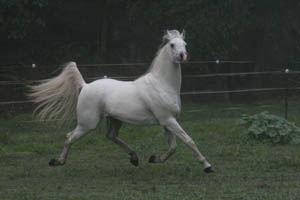 and Ralvon Mark,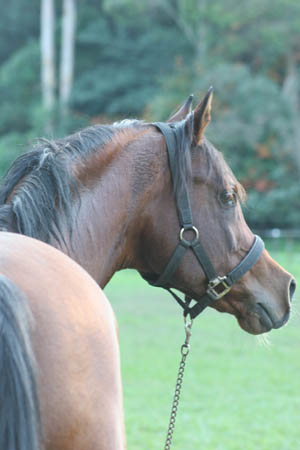 a Ralvon Pilgrim son, and a couple of riding horses, including Ralvon Grace, who finished 4 Quilties.

Their 3 children did some riding, a bit of showing and endurance, though now they've grown out of it. A couple of grandkids still do a bit of riding; Ron rode with 2 of them recently in a training ride, but they're not obsessed with it.

It's been a whirlwind 50 years of good and bad, great disappointment and extraordinary success for the Males. They earned their deserved respect through hard work and skill, and through it all, they've maintained their integrity, congeniality, and gratefulness for their success.